today, in the mail, my 15 month old daughter, Lauren, received a survey to fill out. Since she was recently in the ER at our local hospital and clearly proved to them how very capable she is, they are following up on the services they provided to her and, because I just happened to be there, me.
Was the receptionist courteous, was the wait time reasonable, how comfortable was the waiting area???
Lauren seemed very irritated by these questions and decided to take the 5th. In response she stuffed a veggie stick in her mouth and feign indifference.
But, what is it with hospitals and doctor's offices and the billing departments?
How many people do you know who have been hit with extraordinary costs associated with a hospital 'visit'? Thank God for insurance right? Not always.
For reasons I cannot explain, I have held onto a statement we received from Toledo Hospital. This is where our son, Gaven, was taken after he stopped breathing at daycare. Months and months and months after I bathed and dressed his little body one last time and we had buried him, a bill came to us in the amount of $161,000. We thought we had moved past this part of things because Thank God, we were able to qualify him for insurance due to not working for the 2 weeks Gaven was on life-support.
But, there it was. I returned home from work, full of that heaviness that came with grief. The mail had long since ceased delivering the sympathy cards that somehow, in some small way, reminded me that people remembered our dear son and were thinking about us, and the many hours and days it had been since he had passed.
Even seeing his name on something stopped my heart just a little bit (it still does) and I eagerly opened the envelope. It listed the various services he had received while in the PICU and the cost of each. The cost was staggering (though very little compared to some).
The next day I called the billing department about the bill. As soon as they had entered the account number, the woman said something like, "oh, yeah, you can disregard that - computer error". Well, bust my buttons Dorothy, but that is a really crappy error.
On to the BANANAS!!!!!!
This is my son Gabe: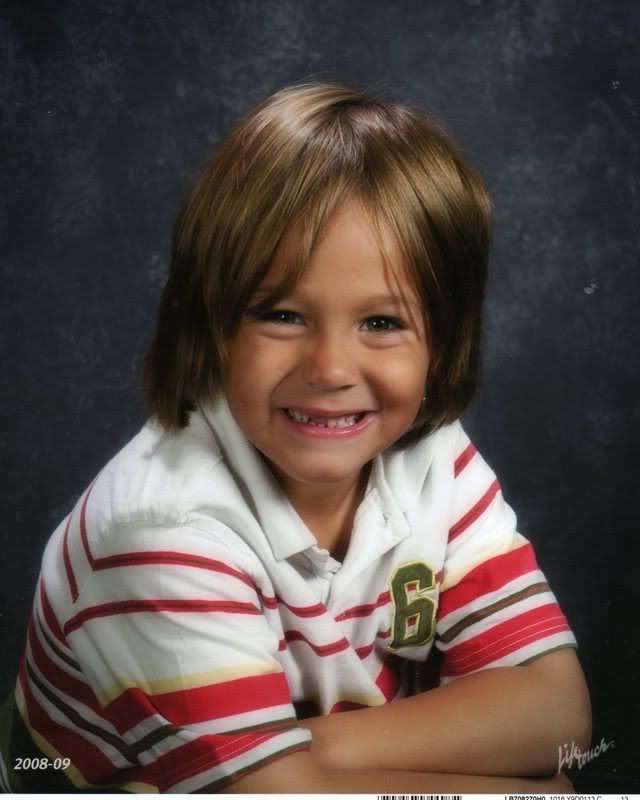 he is 5 and a 1st grader at Meadow Montessori school. Today and for the next 4 days he is responsible for snacks for his classroom. There are 16 kids total and last night we picked out bananas and vanilla wafers. Tonight, being Gabe, he thought we better write the name of each classmate on a banana. Sixteen bananas, 16 names. That is just so funny to me.
Much funnier than the hospital bill. Fo Sho.