Today we (Chaz, Davrin, Gabe, Lauren and I) traveled to Lansing, Michigan's Potter Park Zoo. Every year at this time, Tomorrow's Child/Michigan SIDS puts on a Memorial Service in honor of the babies lost during pregnancy or infancy. Our son, Gaven, passed away 6 1/2 years ago at the age of 3 months due to SIDS. I like going to this event as it is dedicated just to babies like him and the families who have been through a similar loss. They always show a slide show of the babies, have music, a speaker and then a walk out to the Baby Garden where we have purchased a stone in Gaven's honor.
Here is a shot of Lauren sitting near her "Big" Brother's stone.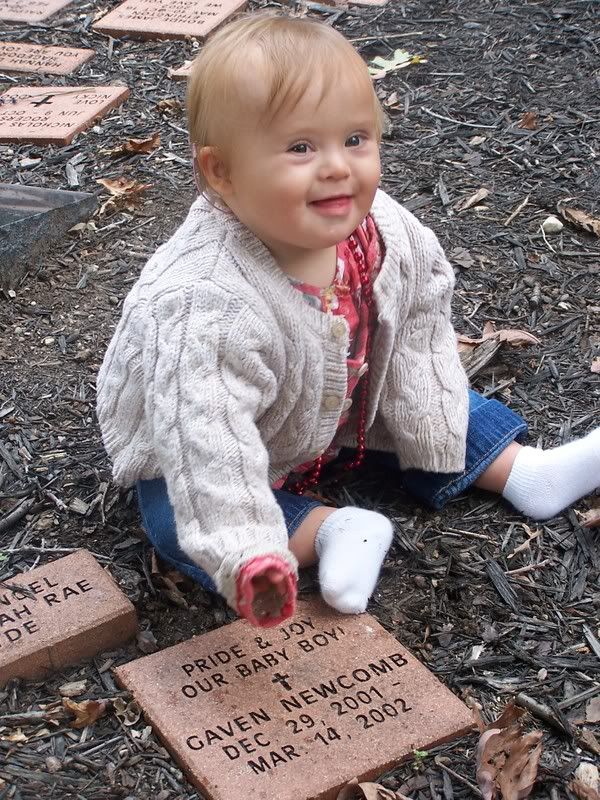 It's also so hard to be reminded of what we've lost and what so many other's have also lost. It just doesn't get any easier, either. I don't feel the same raw pain as i once did, but it still hurts and it still surprises me that such a lovely, beautiful member of our family is now gone.
This picture of Gaven was taken just a couple of weeks before he died.
While the boys just want to go to the zoo to have fun and explore, to me it's an important reminder of what our family has endured.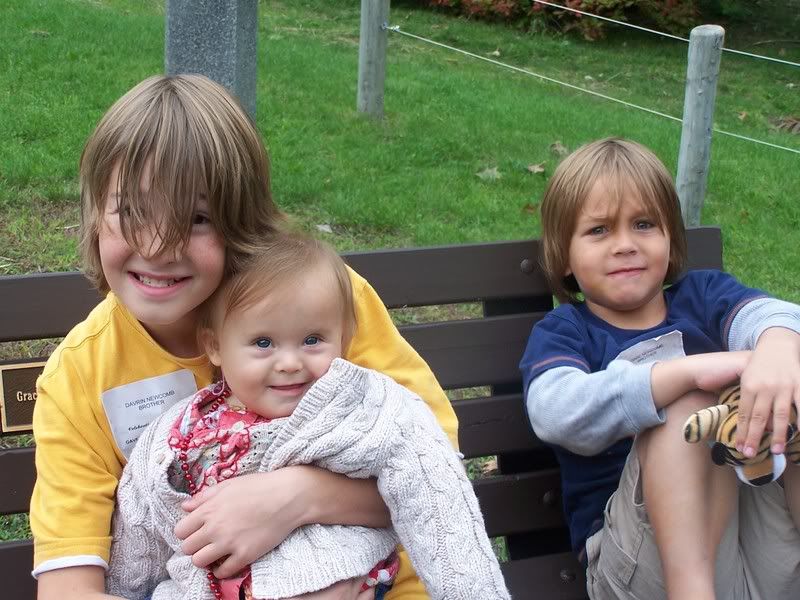 The speaker, Dr. Canine, talked about the 4 R's in grief. I admit that I can't remember but three,
Remembering, Reconciling and Reinvesting
The last,
Reinvesting
, really resonated with me today. After Gaven passed away, I had so much love and energy leftover; I didn't know what to do with all of the feelings I had for him. I had planned on giving it to him over the course of the next 50 years or so.
Dr. Canine encouraged us to 'reinvest' that love - into our other children, organizations, and helping others. So, that is what I do...I reinvest that love, into Ada, Nolan, Davrin, Gabe, Lauren and to Gaven. I will always love and miss that little boy but without him here, I know that my love is still needed by so many others.
On the way home from Lansing, we stopped at Trader Joe's in Ann Arbor to stock up on snacks and stuff for lunches. My oldest son, Nolan, met us there as he was done visiting his girlfriend, Alex who attends U of M. (Nolan attends college at Central Michigan University - majoring in photography...holla!)
How fun it was to see him amongst the nuts and chips and for his two little brothers and little sister to be so happy to see him. I was so glad he could meet with us - just to reconnect and to remind him that I love him.
That's what it's about - realizing that your love will never run out, no matter how much we give.